An Athlete's Guide: College Softball Recruiting Process
---
This iteration of "An Athlete's Guide" will focus on college softball. As we all know, each sport's recruitment path looks different. It can be hard to decipher what recruitment advice pertains to you as an athlete in high school. Softball is no different.
You can do all the research in the world about how to maintain eligibility and get cleared by the NCAA. But college softball is a difficult sport to break into. The more you can educate yourself on what actually works and what doesn't, the better shot you will have at bringing yourself, or your child to the next level. 
That's why The Wire has brought in two experts on college softball for today's "An Athlete's Guide." Our first college softball expert is Brittany St. Pierre, a current high school softball coach in Louisiana and an ex-college softball player for Gulf Coast State College. Additionally, recently retired Long Island University softball player, Katie Hinkle, will offer advice and insight into her own experience with college softball and her recruitment. 
Real world experience and advice is valuable. Transparency in the world of college softball is paramount and it can go a long way in enabling and teaching student-athletes how they can play at their dream school.
Interview with Brittany St. Pierre, High School Softball Coach
St. Pierre understands that recruitment can be a difficult, confusing process. Some may feel overwhelmed by the very prospect of it. But it can be simplified and streamlined, according to her. 
"Softball players can do so many things that will increase the likelihood of them being recruited," begins St Pierre. "Ensure that you are communicating with both your travel and high school coaches about your recruiting exposure. Having their help can maximize your opportunities to get seen."
So, having a coach in the passenger seat goes a long way. Still, softball players' recruitment, or lack thereof, depends on their proactiveness. St. Pierre explains that initiating contact with college coaches and recruiters shows initiative. Coaches love to see initiative. 
"With that being said, make sure your email or your direct message is clear and concise regarding why you are contacting them," reminds St. Pierre. 
These avenues will hopefully spark conversation with coaches, but there needs to be something tangible to point to once the conversation gets going. In some cases, this "something tangible" is the play that was witnessed by a college coach. If circumstances don't allow for this, a softball player needs to have an efficient way of showcasing themselves in order to let their game speak for itself. 
St. Pierre's suggestion for this issue illustrates the disconnect in softball recruitment. Not every college coach will even have an opportunity to see high school athletes play a game. The recruiting budgets simply won't allow for it more often than not. A platform like Signing Day Sports can bridge the gap and offer under-recruited teams and players opportunities they wouldn't have received otherwise, she says.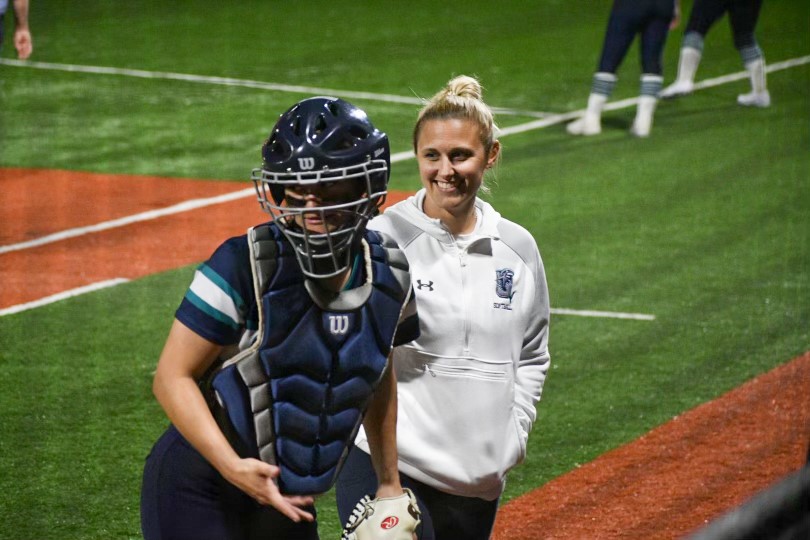 "Softball players need to utilize the tools that Signing Day Sports provides," says St. Pierre. "Post your profile on your social media and share it with coaches at tournaments or in personal messages to them."
This can be a game-changer for anybody who feels confident about their abilities, but not with their exposure to college programs. 
"Leverage social media. Leverage the platforms and tools that are readily available to you," she reiterates. "So many players will make the mistake of not fully educating themselves on the recruiting process. You can't wait for somebody to do it for you."
What can we take away from an industry professional who knows what it takes to succeed? 
Be willing to take the initiative. Communicate clearly and concisely with college coaches about why you warrant consideration. And be sure to communicate something more than a general yearn for being recruited. 
If you can tangibly show why you can provide value to a college softball program through whatever tools are available to you, a college coach has no choice but to take notice. 
Interview with Katie Hinkle, Retired Softball Player
"Some days, I truly felt like it wasn't going to happen for me," Hinkle recalls. "One day, I just happened to play really well in front of a coach that was actually there to watch the opposing pitcher."
Not everyone's path is impeccably straight-forward, and Hinkle's path proves as much. 
She recounted her early high school days where she would be tirelessly picking up the phone and dialing coaches' numbers. Initiating contact herself was the only way she knew that could get her on a coach's radar. 
She would send game film, skill videos and emails but still remembers feeling like she wasn't doing enough. No genuine interest was being shown.
"When I think back to that initial day and everything that followed, I feel lucky. I'll never forget that day," she said. 
In her sophomore year of high school, after things went sour with her travel-team, her mom, Susan, responded to an ad on a website. A tryout for Hinkle was set up, and before she knew it, she was competing on a team boasting players who had committed to schools like Ole Miss, Boston University, BYU, and Cal Baptist. 
This led to a major uptick in visibility for her. And while circumstances seemed to work in her favor, as the saying goes, "you create your own luck."
"I was working hard in the classroom and on the field," said Hinkle. "I stayed after practice almost every day to take extra reps and I prioritized going to the gym and getting stronger. There were two-hour long SAT tutoring sessions twice a week. Over time, I developed such a serious work ethic."
Hinkle goes on to recount the time when she verbally committed to Long Island in December of her junior year. Of course, this was all pending adequate grades and test scores.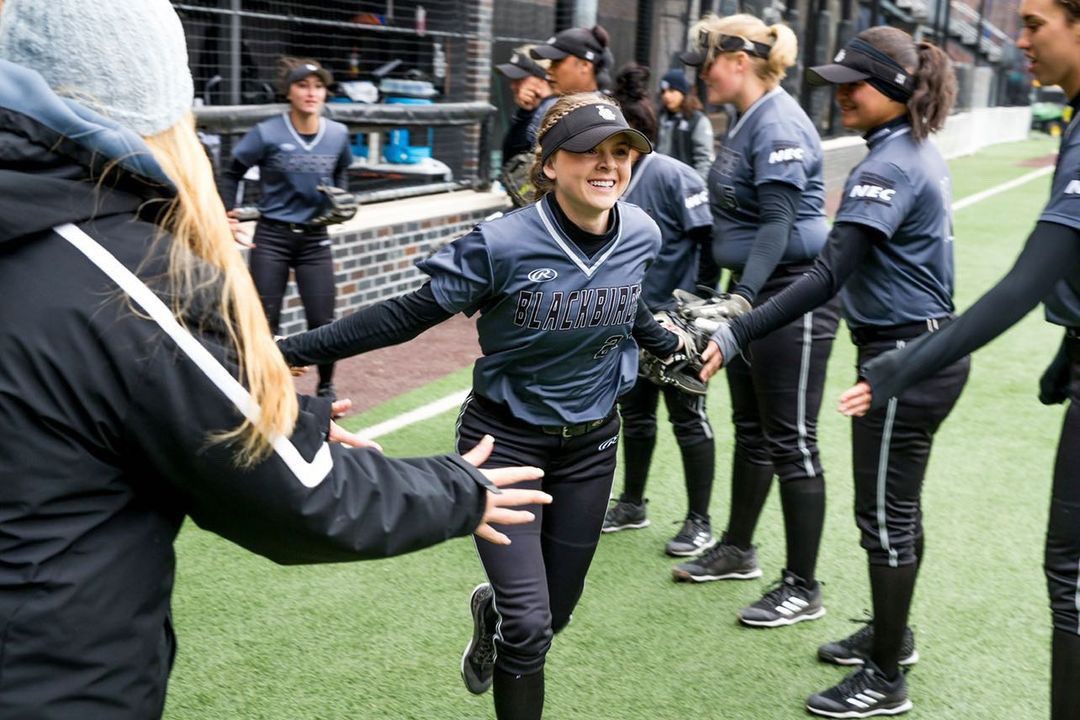 "I had verbally committed. Still, all things considered, my coaches didn't really know if I would be joining their roster or not until my final grades came out in June after I graduated," she remarks. "But I pretty much knew I would be going to Long Island if I ended up being able to get a decent scholarship." 
All things worked for the better, of course. She was able to enjoy a successful six-year career with the Sharks. The relationships that she developed with her teammates and coaches are unmatched to this day and have helped her through bad times and good. 
Asked how she sums up the relationships gained, the personal growth, and all the new life experiences that can only be obtained through participation in a sport like softball?
"Priceless."
Her journey is one that prospective softball players should take note of. Even if you think all is lost, and nobody is noticing you: don't quit. 
Think about Hinkle's journey, and how it relates to your own. She got herself out of a bad situation with a team that didn't fit her. She took control of her own recruiting journey and it put her in the position that she was supposed to be in. 
"Softball sparked a fire and passion in me that nothing else ever did and I will always be grateful I got to play this sport at one of the highest levels. For me, I think every sacrifice was worth it," says Hinkle. 
Hard work has a way of paying off, regardless of the journey taken to get there.
What to Make of the Advice from St. Pierre and Hinkle
Take Hinkle's background and apply St. Pierre's suggestions about how to market yourself to college softball coaches. 
Hinkle tried what she knew. But cold-calling and crossing your fingers can only get you so far. While she acknowledges the part that luck played for her, she knows that hard work is the reason that she was able to achieve her goals. 
Point being: stick to your guns. Don't wait for your break. Make it happen by forcing a college coach's hand.
Hinkle clearly has the skill. And good for Long Island to pluck a future star almost by accident. Evidently, there are quite a few ways to get noticed. Once you finally get to where you want to be, it's a feeling like no other. Take it from our experts.
"I just collapsed to the ground in tears because it felt like the weight of the world was lifted off my shoulders," Hinkle says in regards to the moment she knew she would be attending Long Island University. "If you get the opportunity to play college softball, embrace every single moment."