The U.S. Army Bowl Combine Series
---
Attention all high school football players! The U.S. Army Bowl National Combine Series is coming to a city near you! Signing Day Sports is proud to be powering the combine events, which are designed to provide athletes with an opportunity to showcase their skills in front of former collegiate and professional football coaches. 
Signing Day Sports is the national selection partner for the U.S. Army Bowl. Each combine, our staff will select athletes in the 2024 graduating class to participate in this December's U.S. Army Bowl. 
The U.S. Army Bowl is the most recognized high school All-Star game in the country. Its creator, Rich McGuinness launched the Bowl in 2000 and relaunched the Bowl in 2022. Top athletes who played under the Army brand include Trevor Lawrence, Christian McCaffrey, Reggie Bush, Tim Tebow, Micah Parsons, Chase Young, Tua Tagovailoa, Ezekiel Elliott, and so many more. 
Don't miss your chance to be added to the growing list of collegiate and professional stars.
Combine Dates & Locations
Combine Day-to-day Schedule
The first day of each combine is a Saturday. There are staggered start times for each position group for combine testing:
Group 1: OL / DL / LB / RB – check in at 8:45 AM

Group 2: QB – check in at 10 AM

Group 3: WR / TE / DB – check in at 11 AM

If you play multiple positions, you will have that opportunity, but register and check-in with your primary position.
After registering, you will receive a welcome email and a follow-up email with all the details needed for check-in, schedule, online liability waiver, group assignments, and a detailed checklist of what to bring to the combine. Saturday's combine events will end at 4:30 PM.
Sunday (day 2) will begin at 8:45 AM for all positions. Day 2 features "Selection Sunday" position group competitions, skills showcase challenge events, awards (MVPs in each group), invitations to play in the U.S. Army Bowl (class of 2024), and invitations to the U.S. Army Bowl National Combine in December in Texas (underclassmen).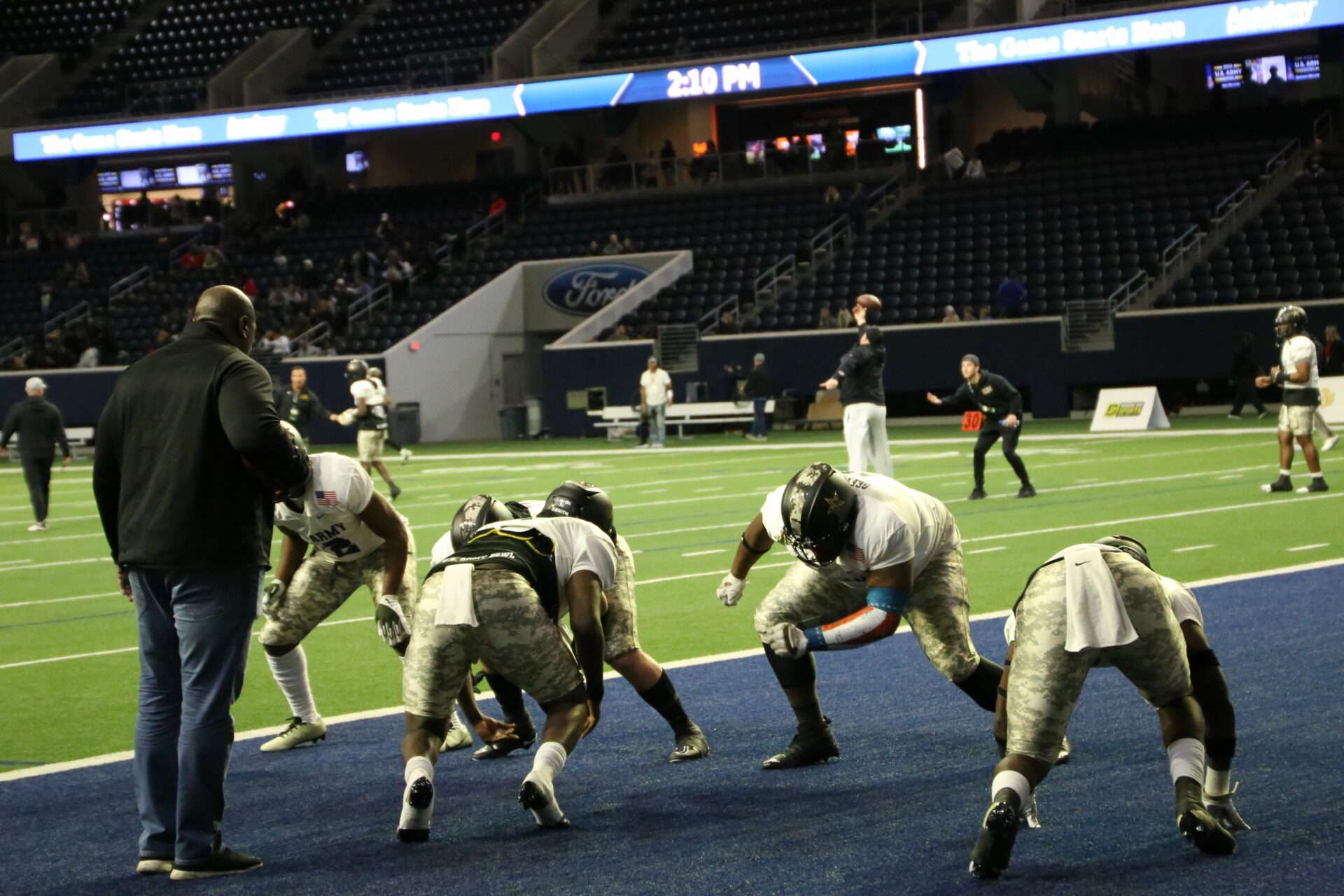 Combine Details and Expectations
All participants will receive a U.S. Army Bowl Combine jersey and recruiting lanyard. Participants will also receive access to Signing Day Sports recruiting staff and coaches who bring NCAA D-I and professional experience. Additionally, athletes will have the opportunity to compete against the top athletes in their region in offensive and defensive challenges. This is where participants can showcase their skills and differentiate themselves. 
Also included are personalized evaluations from U.S. Army Bowl Pro Coaches. Participants will be given their verified combine test results, video, and written evaluations that can be uploaded directly into their recruiting profile on the Signing Day Sports app. They will also receive a "three months free" promo code for exclusive access to the Signing Day Sports recruiting platform.
These events have created memorable times amongst friends, competitors, and teammates in an event that could be life-changing for football recruits.
The cost for the 2-day combine is $295, and the cost for 1 day (Saturday only) is $199. 
Don't miss out on this incredible opportunity to showcase your skills and gain exposure to college coaches and recruiters. Register now for the combine event in your region!