An Athlete's Guide: How To Reach Out To College Coaches
---
In today's competitive college football landscape, it is more important than ever for athletes to take initiative and reach out to coaches if they want to be recruited. This week's entry in the "An Athlete's Guide" series, will focus on how to properly communicate with coaches in order to maximize your chances of being recruited. 
Simply sending a coach an email or calling them up out of the blue is not enough – you need to do your research and make sure you are reaching out in the most effective way possible. Here are some tips from the Signing Day Sports team on how to best initiate contact with college football coaches:
Do your research

: Before reaching out to any coach, make sure you have done your research and know everything there is to know about their program. Showing that you are knowledgeable and informed about the program will give you a major leg up in the recruiting process.

Personalize your message

: Generic emails or messages are a major red-flag for college coaches. Take the time to personalize your message and show that you have a genuine interest in their program. But keep it concise!

Be respectful

: This should go without saying, but it is important to always be respectful when communicating with college coaches. Remember, they are extremely busy and getting hundreds of messages from recruits every day – so make sure yours stands out in a positive way.
Tips from SDS' Football GM
Our Football General Manager, Ryne Rezac, has mentioned that you are more likely to receive a reply if you reach out to somebody besides the head coach. 
Instead of head coaches, send messages to recruiting assistants or graduate assistants. If your information and game highlights pique their interest, your profile will then be sent up to the next pair of eyes, and the next, and so on and so forth. 
Additionally, make sure that the supplemental information on your profiles is relevant and well-vetted. If you send a message to a college program, and that program finds something in your profile that shouldn't be there, consider yourself blackballed. 
What's worked before?
"Typically, the messages that work best when talking to coaches are short and sweet," explains Rezac. "Coaches will not read a lengthy paragraph and they frankly do not care about stats or your football record."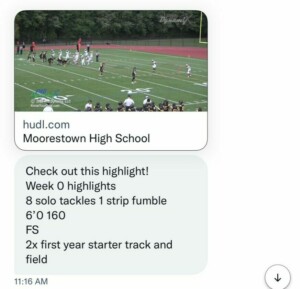 Shown above is a great example of how to reach out to college coaches or recruiters on social media. As we mentioned, this profile contains any information a coach may need. Their message was concise and it highlights their game film first and foremost, because that's what will matter right off the bat. 
I asked Ryne for some examples of relevant questions and messages that he's received over DM. What sticks out to him the most is when student-athletes remain open-minded. According to him, too many recruits think to themselves, "DI or nothing," and this limits their prospects. 
"There are so many great schools that play great football that are DIAA-DIII," he reminds. "Don't close yourself off too much."
Great examples:
Coach, how can I get seen more?

Coach, how can I get offers?

Coach, how can I take visits to schools?

Coach, what can I do to get an offer from this school?
Ryne receives these messages on a daily basis. He considers them smart questions that can provide a student-athlete with the information they need, as well as a contact that can help them get recruited, or at the very least, seen.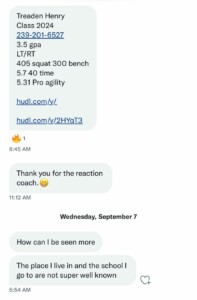 In this example, Traeden Henry sends a clear concise message that conveys interest and shows that he's willing to put in work. Like Ryne mentioned, he asked pertinent questions that coaches love to hear. He also provided the necessary information that coaches need to recruit you. If you ask us, this warrants a response. 
"Coaches just want your film. They really just want to know if you can play football," said the former Division I Director of Player Personnel. "If a coach receives your film, and likes it, then they'll start to look into the other items."
Following these tips will help ensure that you are properly initiating contact with college football coaches and giving yourself the best chance possible to be recruited by them. Good luck!