Paving a New Path for Softball Recruiting
---
Paige Halstead joins SDS
Paige Halstead has made a name for herself as a role model for youth athletes across the nation. As a catcher for UCLA from 2015 to 2019, Halstead helped the team to a championship in her senior season. After graduation, she made it to the professional leagues as a member of Athletes Unlimited. She was also able to throw in a three-year stint with Team USA and help them work towards Olympic qualification for Tokyo 2021. Team USA took home a silver medal after narrowly falling to host-team Japan in the final. Halstead joins the Signing Day Sports team to help pave a new path for softball recruiting. 
Halstead's role with SDS
Halstead did not want the end of her playing career to be the end of her involvement in softball. She wanted to find a way to give back to the sport she fell in love with, and that resulted in her finding her way to Signing Day Sports. Halstead chose SDS because they are changing the game of recruiting, she said.
Being brought on as the Head of Softball at Signing Day Sports, she is directly involved and a pivotal player in the softball side of the platform. Going through it all and at the absolute highest levels, Halstead could not be better prepared for this role. It lines up excellently with her intentions and desires. This is her opportunity to reshape the recruiting process and make it simpler and clearer for all parties involved. Halstead could not be more excited to give back by paving a new path for those involved to follow.
Leading the charge on this is our new Head of Softball, @PaigeHalstead.

👀Read about Paige's journey from high school to @UCLASoftball to @USASoftballWNT to @AUProSports to #TeamSDS on The Wire, our new portal for exclusive articles, interviews and more: https://t.co/V8AVqfHFaq pic.twitter.com/viuVeuPFtw

— Signing Day Sports (@SDSports) July 29, 2021
Softball Recruiting
Halstead successfully navigated the complex recruiting process herself. Halstead's recruiting process was not easy in the slightest.
 "I had to email all the college coaches on where I was playing [and] what position I was playing," she recalls, something a high school athlete really shouldn't have to deal with but is something that will resonate with athletes across the country.
Athletes' priority should be on what they can bring to a team.
Softball recruiting is a confusing, messy, and inconsistent process. Coaches struggle to find the exact athletes they are looking for. Players struggle to get in front of coaches and scouts. But it doesn't need to be that messy – there can be a more simple and straightforward solution.
Halstead's Focus
While Halstead continues to shape her career and build her brand, making use of her status as a role model to younger softball players and female athletes in general by finding ways to give back to the youth development is "definitely [her] passion." She "wanted to join this team because [she] wants to help the younger generation of athletes get the credit they deserve and the exposure from colleges across the country."
Halstead grew up watching her parents build a gym to teach the younger generations of athletes. It's important to her to do what she can to give back to those younger than her. She wants to help create a clearer path for athlete to continue their careers. It's already a hectic world for athletes. They go from being a part of their high school programs, to travel teams, to traveling to showcases. This all leads to summers with no days off and games all the time. Why isn't there a single, trusted platform for girls to be able to showcase themselves as athletes? This is what Halstead, alongside the team at Signing Day Sports, strive to solve.
WhY SDS for Softball
Halstead and SDS strive to achieve the same goal; to change the world of recruiting for the younger generation. They want to give athletes from any region the best opportunity to get recruited. After seeing what SDS created for baseball and football, Halstead agreed that SDS could revolutionize softball recruiting.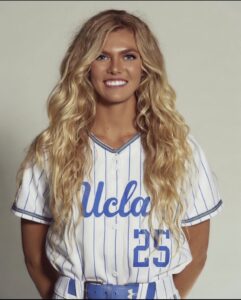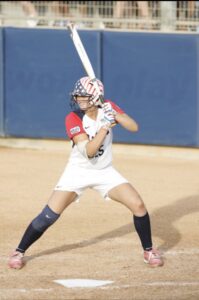 Halstead understands the necessity and importance that travel ball and camps played in her recruiting experience.
"Travel ball is where it's at for softball," Halstead said. She also realizes that not everyone has access to these events.
The playing field, currently, is just not even. Halstead, working in tandem with the team at SDS, know that it's time to have a "platform that is going to get girls exposure, especially the girls that don't have the opportunities to go to different camps [and] don't have the opportunities to be on a certain travel ball team." With the Signing Day Sports platform and everything that girls and coaches would have access to, from video-verifying abilities and stats, to interviews and teammate endorsements to show the intangibles, she saw that girls will finally "get the exposure that they need," and for colleges it will "eliminate the confusion of recruiting."
Softball RECRUITING ON SDS
Coaches and scouts will be able to find the athletes they regardless of location. Coaches will no longer need to see each player's game. They won't rely on a stat box and roster alone when evaluating players. With Signing Day Sports, coaches will be able to believe what they see on an athlete's profile. Athletes' profiles show verified video uploads and analytics. This provides a trustworthy information base for finding athletes that match the needs of coaches. 
However, it's not all about what happens on the field, as athletes are not one-dimensional. For that reason, part of the platform includes introducing yourself, what your interests are, and how you're performing in the classroom. Signing Day Sports will allow athletes to highlight who they are off the field, giving coaches the best opportunity to see how these girls will fit in with the programs they've built and are building for the future.
While an application as revolutionary as the Signing Day Sports platform is, it still takes incredible hard work and dedication to make it to the collegiate level, let alone the professional. However, Halstead knows that those motivated enough will put it in the time and effort to get there, so she says to keep grinding.
Work on those drills, work on consistency, play off your teammates, listen to your coaches, and the hard work will pay off. You'll get there, especially with this opportunity that is truly like none other. No other platform will give all the same abilities from within the same location.
Halstead "hopes that girls will take advantage of this opportunity."
Advice for parents
And as we all know, recruiting is not a game that only players are involved in. For parents, Halstead has some advice as well. As it pertains to their girls, "be there for them throughout the whole entire process" and realize that "if you have a platform like Signing Day, it's going to create a different experience and a different environment for the girls to get out there to different coaches," and will ultimately make it less stressful, clearer, and will bring out the best results for the athletes that you've raised.
With someone like Halstead leading the charge for Signing Day Sports Softball, someone who "understands the hardships of getting exposure," the platform is in good hands.
Halstead and the Signing Day Sports team have been hard at work and continue to work on providing the most in-depth and feature-rich platform available for softball players and coaches alike, and it will all be available this upcoming Fall 2021.