New York City High School Football Programs Fight to be Noticed
---
New York City high school football fights to attract recruiters to their programs. 
Recruiting in cities 
 John Shepherd, head coach of varsity football for Harry S. Truman High School in Bronx, NY, is working hard to change that perception. Shepherd has coached 14 years at Truman helping the program go from a low performing team to a mid-level team in the top conference division. He encourages recruiters to look for "diamonds in the rough" at inner-city football programs.
"From an outsider's perspective, New York City high school football is often regarded as perhaps lacking in discipline and structure, compared to the suburbs or rural areas. There are also assumptions that the players might not be as academically proficient," says Shepherd. The players and the schools often lack financial backing. "The unfortunate consequence of that is you'll have extraordinarily talented individuals who may not have gotten the exposure they would if they were coming from a more established breeding ground of football talent, like Florida, Ohio, Texas, or Pennsylvania."
Shepherd sees some changes slowly evolving. And he is doing his best to help his own players find opportunities to play at the college level. 
Shepherd's recruitment experience
Recruitment has come a long way since Shepherd's own days as a high school athlete. As a player himself, his family didn't own a VCR or a video camera, so filming game highlights was out of the question. In one memorable incident, recruiters for Clemson University noticed Shepherd's performance on the highlight reel on the team's star quarterback. "I got pulled out of class to meet the recruiters, I'd never been so excited!" said Shepherd. But sadly, the recruiters took one look at Shepherd, shook his hand, and that was it. "On film, they thought I was 4 inches taller and about 40 pounds heavier," recalls Shepherd. Despite his Clemson diss, Shepherd's recruitment journey ended with him playing at SUNY Cortland State.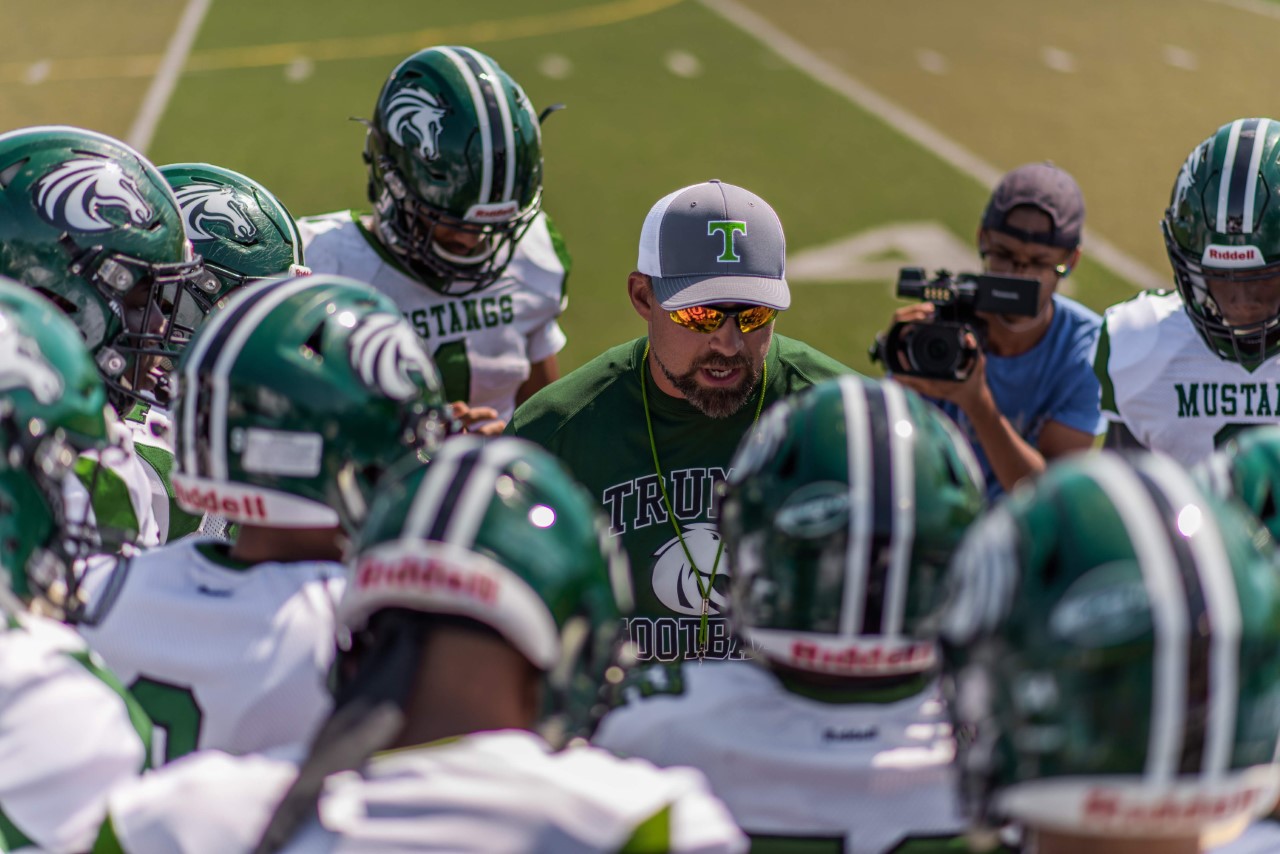 Even as a coach for a decade and a half, Shepherd has seen the process evolve. "Originally it was about trying to get as much film of these guys as I could, and then running down to the media teacher to see how I could burn highlight films onto as many DVDs as possible, so I could send them to different coaches that I'd reach out to via email," Shepherd recounts. He remembers finding it difficult to cold-call college coaches when they'd never heard of him or his school, especially coming from an area not noted for producing high school football talent.
The Importance of a Recruiting platform 
But as time went on, Shepherd learned to upload the highlight films onto YouTube, and then finding online platforms where players can upload their measurables, highlight reels, and game records. "The idea of having a platform where everything I was saying about the player, could be verifiable, next to the film they saw, would have been ideal," says Shepherd of his early days of helping his players get noticed.
He had noticed early on that when he discussed his players' merits, their measurables, and their academic records, college recruiters would often assume he was exaggerating, or that the players were just shining in comparison to a lowered bar. Because of the assumption that New York City high schools have lower standards, high GPAs come into question for these players. Shepherd remembers one exceptional player, a running back known for his tremendous runs. But recruiters would question whether the player really was that good, or if he was merely competing against bad defenses.
"Some of the defenses were pretty bad, but many were well-coached, athletic players who were just torched by this uncommon player," says Shepherd. "He would have shone had he played anywhere. If he'd played in North New Jersey, his skill wouldn't have been questioned. There were some concerns that have taken away from some of the opportunities that might have been presented to these young men."
Shepherd fights against the odds
Shepherd is fighting to dispel these assumptions about New York City high school football by seeking out regional camps and showcases. This allows his players the opportunities to compete in drills provided by other schools. 
Most of Shepard's players don't have the financial means to travel to showcases in other parts of the country. There are plenty of opportunities within driving distance of New York city, where players can shine on the field. 
Shepherd just got a photo from one of his former players holding an FCS trophy. This student traveled to local showcases and showcases in different regions in order to gain the attention of recruiters. He now plays at Sam Houston State. 
"In many cases, the student-athletes and their supporting families drive the success," says Shepherd. "A lot of these players showed how extremely tenacious they are, not only in their preparations in getting better at football, but also academically."
One of Shepherd's former players attended every camp and showcase he could while performing well in the classroom. This player is now at Wagner College. 
 "That made it very easy to speak on his character," said Shepherd.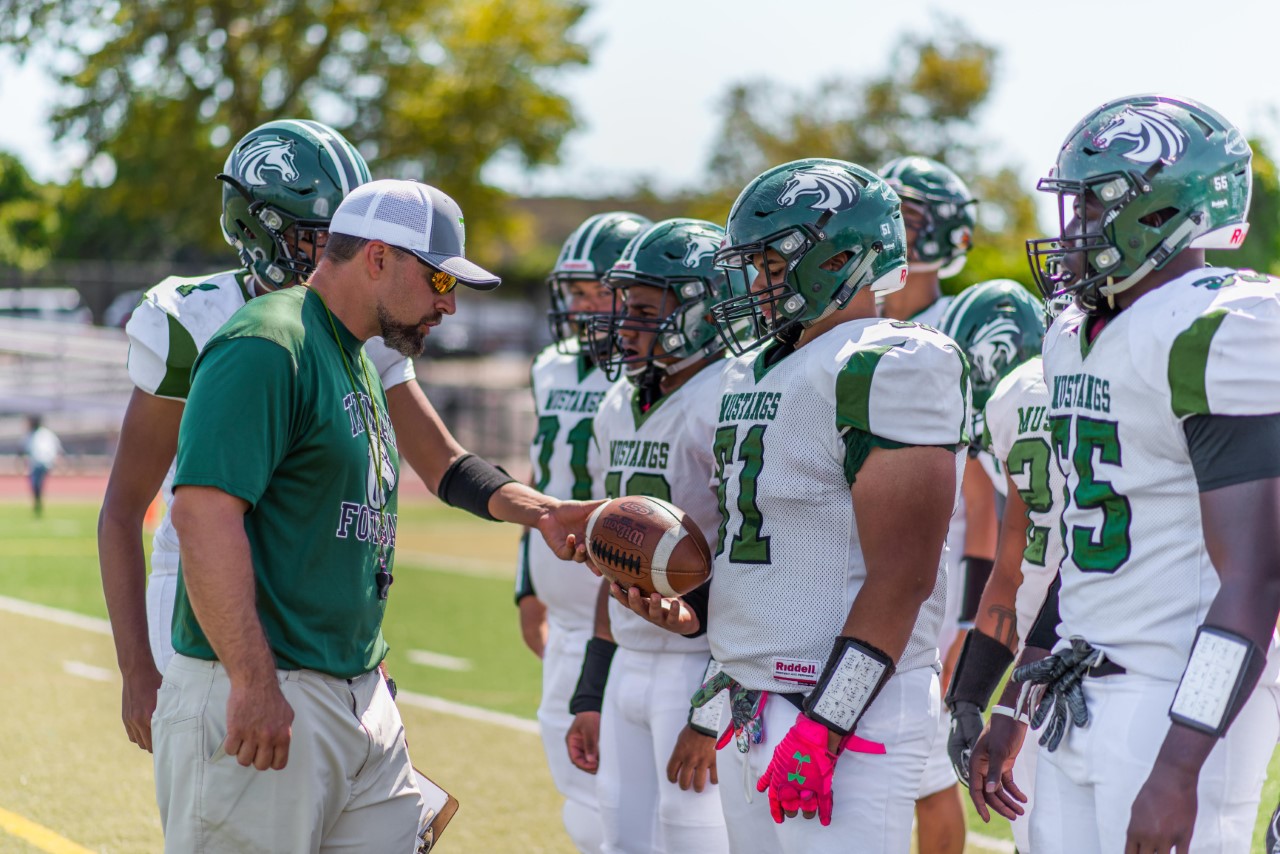 How SDS helps Shepherd
Shepherd feels like he's been around long enough to make a name for himself. He developed a reputation of advocating for his players without exaggerating their attributes. This is important to him because of his own experiences as a recruit. He feels like Signing Day Sports can help players stand out by offering a credible, verifiable source for stats.
"Players can be seen for their actual height, actual weight," he says. "They can go through the same drills and run the same routes that they do at a talent showcase, and it's verified, there's no sleight of hand. Recruiters can see it all firsthand, without having to pack a suitcase to go see them. The exposure it provides without necessarily requiring the exertion of resources on the part of the recruiter, is tremendous, especially for the demographic of inner-city athletes," Shepherd added. 
And attracting the attention of the college coaches is getting easier as the top New York City high school football programs are now on their radar.
"It's almost like the credibility has been established," says Shepherd. "A guy can come out of a Truman High School and become an FCS champion. A guy can come out of Erasmus Hall High School, compete in the Big Ten and go on to the NFL, like Curtis Samuel did. Some [athletes] are getting out, some schools have established a reputation, but overwhelmingly that hasn't been the case."
Shepherd's Advice
Shepherd has some takeaway advice for city-dwelling athletes and coaches who want to snag spots at top college football programs.
It's important for younger players to watch their upper-grade teammates go through the recruitment process. This will help players know what to work on and make them better equipped to be in the spotlight.
"They'll know they better make sure their GPA is what it needs to be, and to make sure they get in every rep they can, because there's a kid in Missouri who will be competing for that same scholarship in four years," he says.
And coaches can help players and their families set realistic expectations. "They're all competing for a finite number of spots that are opening up at each level," he says. "There's something like a million high school football players, and only 7,000 of them are going to go on to play NCAA football — that's a tiny percentage!"
He adds, "It's helpful to have goals and shoot for the stares, but also to have realistic and achievable goals, and to have everyone on board with that as early as possible."