What Players, Parents and Coaches can do during the recruitment process
---
Players, coaches and parents all play a crucial part in the recruitment process and it's important to know how each party can contribute to the process. After speaking with a highly respected coach, here is what the SDS team came up with for what players, coaches and parents can do to help during the recruitment process. 
A Conversation with Coach Jason Mohns 
Head Football Coach Jason Mohns of Saguaro High School in Scottsdale, Arizona, knows how players make it to the next level. Mohns' program is one of the top high school programs in the state. Saguaro has won 5A division six times in the last eight years. According to MaxPreps, they are also one of the top 50 teams in the country. Currently, three Saguaro alums play in the NFL. Throughout Mohn's 14 years at Saguaro, he's seen over 60 players go on to play Division I football. Along with countless former students playing college football at every level.
Mohns believes part of his job is to help guide student-athletes through the recruitment progress. He didn't make it to being a college football player however he grew up surrounded by the game. Mohns' father coached at the college level and professional level. While a student at Arizona State University, Mohns started to gravitate towards following his father's footsteps. He began volunteering as a coach for youth football and ultimately ended up running a league. 
"Once I started doing it, I knew that it was my calling and couldn't see myself doing anything else," Mohns said.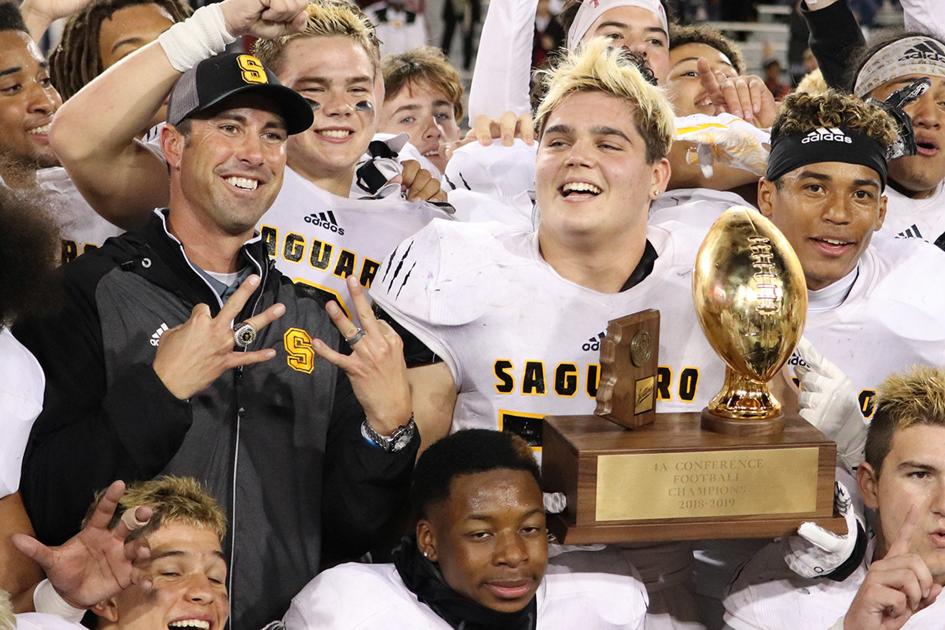 Serving as head coach for the past 10 years, Coach Mohns has seen many players come and go and the college and pro recruiting landscape become even more competitive. His approach to guiding players and parents through the process is much like his approach to coaching. "It starts with relationships," he says. Early in a student's high school career, it's important for a player and their parents to start talking with their coach about what the student's goals are. Dialogue and conversation are important between all the parties: player and coach, player and parents, and parents and coach.
What Parents Can Do 
"The most important thing parents can do is make sure their kids are taking care of their business in the classroom. It all starts there – you can have the greatest film in the world, but if your transcript doesn't check the boxes, you can't go," says Mohns.
He recommends that parents meet with their child's guidance counselor to make sure their course selections meet NCAA requirements. They should also make sure that grades are up to par in core subjects and help keep track of their student's GPA.
Another thing parents can do is to reach out to parents who have been through the process before. Saguaro High Football holds a parent meeting each year lead by a parent who has had two children go on to play college football. While not all schools offer formal meetings, high school programs should help educate parents about the process and help make connections. Plus, parents can do their own research into what colleges are looking for and be proactive in making sure their student is registered in the NCAA system and has what they need in terms of a good film, verified measurements, photos and transcripts.  
The most important thing parents can do is make sure their kids are taking care of their business in the classroom.
Parents need to understand their child's abilities but also the limitations. Sometimes there are simply limits based on physical attributes.
"I try to be real with people," Mohns says. "When a kid is 14 or 15, you never know what they're going to be when they're 17." He encourages parents and students to not have the attitude of "D1 or bust." There are opportunities at all levels and sometimes things like height or wingspan are simply out of your control. 
What players Can Do 
Student-athletes, of course, have to be clear in their goals and stay focused on working hard on the field and in the classroom. Coach Mohns says it's also important for them to build connections too. He recommends his players try to get to know recruiting coaches and following them on Twitter and social media. They also should be filling out questionnaires, going to camps, making sure their films are right, and importantly, not slacking off in the classroom.
"Control what you can control. You can't control how tall you are, but you can control and the work you put, the film you put on the field, or your transcript," Mohns says. When offers start rolling in, it's easy to get caught up with what others are getting. Coach Mohns cautions that you can't let that consume or distract you from the ultimate goal: "Trust the process. Everyone's path is different. You've got to put yourself in the place where you trust those who are helping you."
What Coaches Can Do  
Coaching is built around trust and it's important that student athletes know that you're there for them, Mohns says. When players have put in the hard work, it's important to open as many doors as you can for them. High school coaches should get to know the recruiters and the recruiting landscape. "Build contacts with recruiters, go to a coaching clinic, ask to meet with them, Mohns says.
"Look outside the box when you don't have the resources. Talk to coaches who have had success, talk to coaches at other schools. Tools like Signing Day Sports can also be a resource," he says.
How Signing Day Sports Can Help
Coach Mohns is in his second season using Signing Day Sports. With so many recruiting services out there, he is always a little skeptical when he hears about the next big thing.
"Signing Day Sports is different," he says. "It's a platform where I can sync all the information about my kids. It takes all the steps and puts it into one place. Photos, measurements, videos, transcripts … it brings all parties together."
Coaching at a high level is all about efficiency, Mohns says, and Signing Day Sports makes the recruiting process more efficient. It gives coaches and students a platform and application to be more efficient with the recruiting process.
Talented athletes can be seen by more people regardless of geographic boundaries. While recruiters are still doing to want to physically lay eyes on as many people as they can, the COVID-19 pandemic showed us that we can get things done remotely. "Signing Day is at the forefront of that," says Mohns.
What Coach Mohns really values about Signing Day is that it puts student athletes at the forefront. No one person is promoted over another – individuals are seen for who they are and what they can do. He also likes that it keeps high school coach involved in the process.
"There's not a sales aspect or middleman taking over the process. It's not a recruiting service, but a platform," he says. "It's a relatively inexpensive, affordable way to maximize exposure for a player who has interest in playing at the next level."
For Mohns, there's few things nothing more satisfying than when "Signing Day" really happens for his students: "When kids put their name on the line and sign a full ride scholarship that worth upwards of a quarter of a million dollars or more and you see them achieve their dream, and you see their family and mom with tears in her eyes for me, that's one of the most rewarding things about my job."