Player of the Week: Devon Dampier | Signing Day Sports
---
Devon Dampier – Saguaro High School
This week, Signing Day Sports is proud to announce Devon Dampier as our Player of the Week. Devon is the quarterback for Saguaro High School's football team in Scottsdale, Arizona. 
Devon's strong arm, and elusiveness as a scrambler helped lead his team to a 2021 state championship in Arizona's Open Division. He shared the backfield to begin the season but was handed the keys in the second half – and the team took off. If any readers are in need of entertainment, check out his highlight reel.
What his Football coaches say
Coach Jason Mohns of Saguaro High School speaks highly of his three-sport athlete any time he gets the chance.
"His playmaking ability is unmatched at the QB position. He can make all the throws from the pocket, but his ability to extend plays and make the defense pay with his athleticism is what makes him special. His ability to process and anticipate is as good as I've ever seen," explained Mohns. 
While observing the young quarterback, one college coach said, "with Devon, you don't have to call the perfect play."
What makes devon, devon?
Dampier thrust himself into the national spotlight with heroic performances against three dominant programs last season. He led the Sabercats to victory against Chandler, Glendale Cactus and Chandler Hamilton. He figures to garner significantly more D-I attention throughout his senior year, adding to an already impressive list of schools vying for his services. 
Off the football field, Devon's list of accomplishments is just as impressive – if not more so. He is the starting point guard for Saguaro's basketball team and the school's all-time record holder in javelin. Throw into the mix that he sports a 3.8 GPA and you're talking about a picture-perfect student-athlete.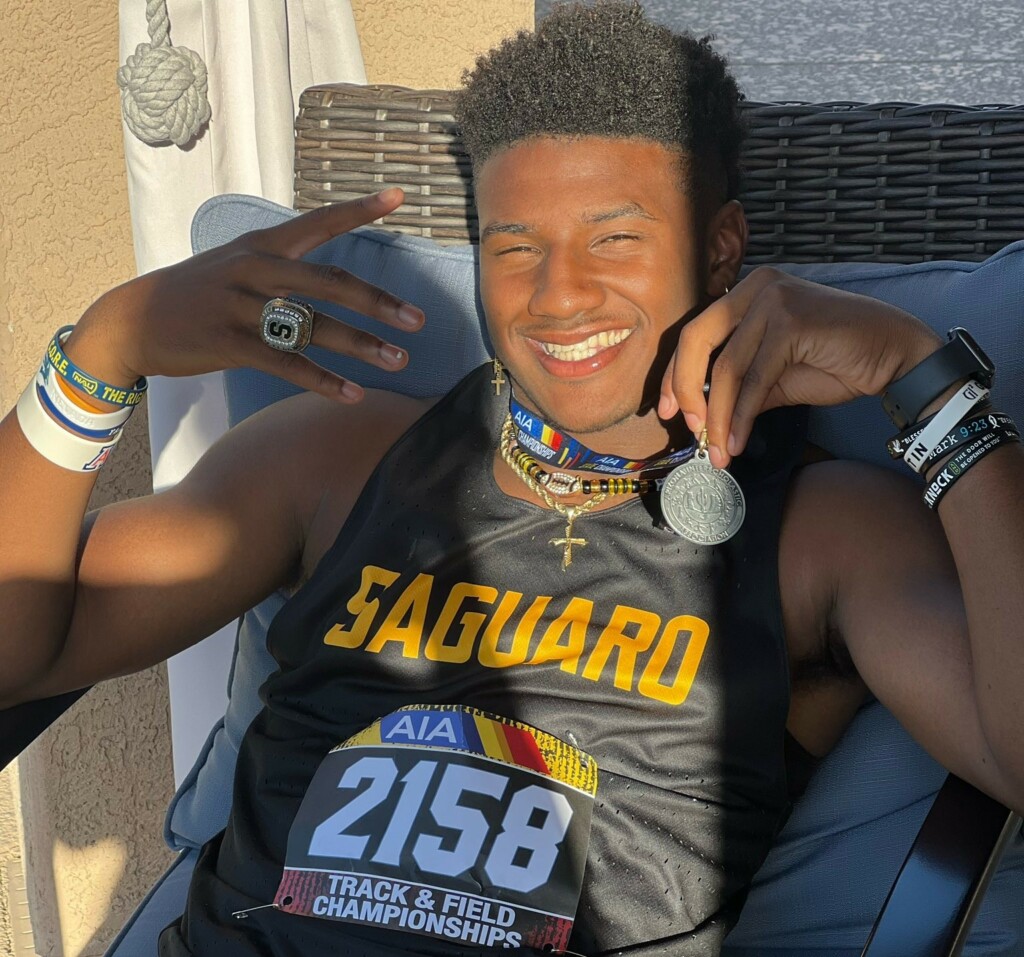 In an interview with The Arizona Republic, Coach Mohns said, "I think without questions he's the top 2023 quarterback in the state. He's not only a dynamic athlete but a tremendous quarterback and a dynamic leader. We're building this thing around him. We've got some weapons for him."
Congratulations again to our Player of the Week, Devon Dampier. Good luck to him, and the Saguaro Sabercats next season.
If you, or someone you know warrants consideration to be recognized as Player of the Week on The Wire, follow these easy steps: Download the Signing Day Sports App and create a Player Public Profile.