Elite Flag Football Prospect Camp Series
---
Women's flag football has been gaining momentum as a dynamic and competitive sport, offering exciting opportunities for talented athletes to showcase their skills at the collegiate level. In an effort to support and nurture the growth of women's flag football, Signing Day Sports is teaming up with experienced coaches Ricky Hufty from Florida Gateway College and Chelsea Parmer from Thomas University to present the Elite Flag Football Prospect Camp Series. 
This camp promises to be a game-changer for young female athletes, providing them with a unique platform to demonstrate their abilities in front of college coaches and take their game to new heights.
The Growing Opportunities for Women in Flag Football
Women's flag football has seen a surge in popularity, both at the recreational level and in organized leagues. The sport's exhilarating pace, strategic gameplay, and emphasis on teamwork have drawn athletes from various backgrounds, showcasing their athletic prowess on the gridiron. With an increasing number of colleges and universities recognizing the demand for women's flag football, opportunities for scholarships and recruitment have never been more abundant.
The Elite Flag Football Prospect Camp Series
As part of our commitment to fostering the growth of women's flag football, we are thrilled to be hosting the Elite Flag Football Prospect Camp Series. The camp, set to take place in Orlando, Florida, at Celebration High School on July 29th, is open to female athletes in grades 9-12.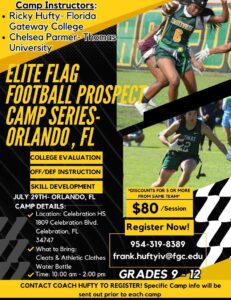 This one-of-a-kind camp is designed to provide comprehensive training and evaluation, focusing on both offensive and defensive skills. Led by Ricky Hufty and Chelsea Parmer, seasoned coaches with a deep understanding of the game, the camp will offer participants the chance to fine-tune their technique, enhance their abilities, and gain valuable insights from experienced professionals.
What to Expect at the Camp
Participants can look forward to a structured program that includes college evaluation sessions, position-specific drills, and skill development exercises. This hands-on approach will help athletes refine their techniques and gain valuable feedback from expert coaches. Additionally, the camp will feature competitive scrimmages, allowing players to showcase their newfound skills and stand out to college coaches in attendance.
Coach Hufty explained more about what athletes can expect at camp:
"The first portion of the camp is centered around Signing Day Sports – testing, measurables, and filling our everybody's recruiting profiles. Then we'll move into specific position work. So, we allow kids to settle into their actual positions and get some fundamental work offensively and defensively. Then we'll move into the group stuff. So, route running and quarterbacks throwing live routes to receivers. We may split into two groups where half of the camp is working on throwing and route running and the other half is working defensive coverage assignments and structure – we'll go over basic cover-3, cover-2. At the end, we'll run a scrimmage to make sure everyone gets their reps in for the day." 
Expert Coaching Staff
Ricky Hufty, head coach at Florida Gateway College, and Chelsea Parmer, head coach at Thomas University, bring a wealth of experience and expertise to the camp. Their passion for developing talent and supporting young athletes will undoubtedly inspire and encourage participants throughout the camp.
Ricky Hufty is an accomplished flag football coach with over 12 years of experience coaching at the high school and collegiate levels. He is currently the Head Flag Football coach at Florida Gateway College in Lake City, FL. who competes in the NJCAA (National Junior College Athletic Association). In the inaugural season this past year both for the program and NJCAA Flag Football, Hufty guided the Timberwolves to the first ever NJCAA National Championship finishing with a 15-1 record. Hufty was also named the NJCAA Coach of the Year and serves as the president of the NJCAA Flag Football Coaches Association.  
Hufty's passion for the sport extends beyond coaching; he helps organize the statewide senior high school all-star game through the Florida Athletic Coaches Association (FACA) and previously served on the FHSAA Flag Football Advisory Board. With a background in scouting and player evaluation from his work with XOS Digital (now Catapult Sports), he has earned esteemed accolades, including the 2018 FACA Meritorious Service Award, 2017 All Big Bend Flag Football Coach of the Year, and 2023 NJCAA Coach of the Year. Hufty's unwavering dedication has made a significant impact on the development of flag football in Florida. 
Chelsea Parmer is a trailblazer in the sport. In her second year with Thomas University, she led the Night Hawks to a historic season with a record-breaking 20 wins – the most in NAIA history- and has amassed an overall collegiate record of 38-5 in two years. In her two seasons at the helm of the Nighthawks, she has led them to back-to-back Sun Conference Championships (first program to accomplish such a feat) and back-to-back National Runner-Ups as well. Parmer also serves on a coach's advisory board for the NAIA.  
At Amos P. Godby High School, Parmer earned the All-Big Bend Coach of the Year award three times and guided the Cougars to state semifinals on two separate occasions along with a number of other deep playoff runs. Parmer's coaching journey began at Leon High School, where she achieved remarkable success. She also competed as a player at Leon High School where she won back-to-back state titles in 2007 and 2008 along with state player of the year awards in both seasons.
Registration and Discounts
The Elite Flag Football Prospect Camp Series offers various registration options starting at $80 per player. Discounts are available for teams of five or more players, making it an accessible and rewarding opportunity for athletes to participate in a high-quality camp.
To secure a spot and get more information about the camp, interested athletes can reach out via phone at 954-319-8389 or email frank.huftyiv@fgc.edu.
The Elite Flag Football Prospect Camp Series is an exceptional platform for aspiring female athletes looking to take their flag football skills to the next level. With guidance from top-notch coaches, the opportunity to showcase talents in front of college coaches, and the camaraderie of like-minded athletes, this camp promises to be an unforgettable experience. As we strive to empower women in sports, we believe that this camp will play a crucial role in the continued growth and success of women's flag football on the collegiate stage.