SDS hosts football showcases in Austin and San Antonio
---
Throughout March and April, Signing Day Sports alongside THCSA are putting on football showcases to promote the platform and straight line recruiting. This past weekend the SDS team and help from Performance Course coaches held showcases in Austin and San Antonio, TX.
Showcase Recap
High school football players went to different stations to create their SDS profile. First, players got their verified height, weight, hand size and wingspan. Players then recorded their interview questions for college coaches to view on their SDS profile. After getting their basics for their profiles, athletes split into groups to go through timed speed drills. Players got timed videos for their 40-yard dash, 5-10-5 drill and broad jump. 
Each drill was videoed for their profile and players uploaded their videos to their profile on the SDS app. After these drills players went through position-specific drills and got their videos. Players and coaches from region eight came out to participate in this event. Georgetown High School coach, Chuck Griffin, encouraged his players to come out to get verified results.
"I really like how THSCA has stepped in alongside Signing Day Sports, giving us a platform to help control the information about our players that gets out there," Griffin said.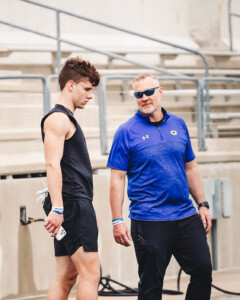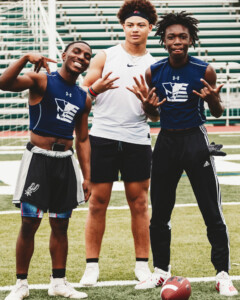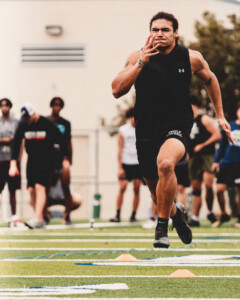 Straight-line recruiting
Coach Griffin, along with other coaches in Texas, are pushing straight-line recruiting. Straight-line recruiting is an initiative created by the THSCA to maintain the prioritization of high school coaches' involvement in the recruitment process. The goal is to keep third-party agents out of the process and keep high school coaches involved in their athletes recruitment to the next level. Round Rock High School football coach Jeff Cheatham also values the way this event takes the pressure off of high school athletes. 
"I think the concept is fantastic," Cheatham said. "We have so many kids that feel like they have to go to all these events and all these different combines, it really puts a lot of stress on the kids. This showcase is really awesome for helping kids."
The Signing Day Sports app is all about straight-line recruiting and prioritizing high school coaches and student-athletes in the recruiting process. The purpose of these showcases is to give athletes a platform to get recruited without the involvement of third parties. 
"As high school coaches we can have a good honest conversation with college coaches and it helps keep outside folks out," Cheatham said. "Third parties don't have the kids' best interest and that's what our calling is as high school coaches is to do what's best for the kids."
Just like Cheatham, Signing Day Sports has the athletes' best interest in mind and looks to continue to give athletes a platform to be seen and recruited by college coaches.
For more information or to register for future Texas showcases, visit: https://texas.signingdaysports.com/