SDS Featured Athlete: Beckham Pellant
---
For some, Beckham Pellant's story may sound like a dream. The beginning to a movie that young athletes aspire to emulate. But for those at Hamilton High School in Chandler, Arizona, they bored witness to the meteoric rise of a quarterback whose passion for the game and relentless pursuit of excellence have propelled him to new heights. And the Huskies' faithful believe in their QB1.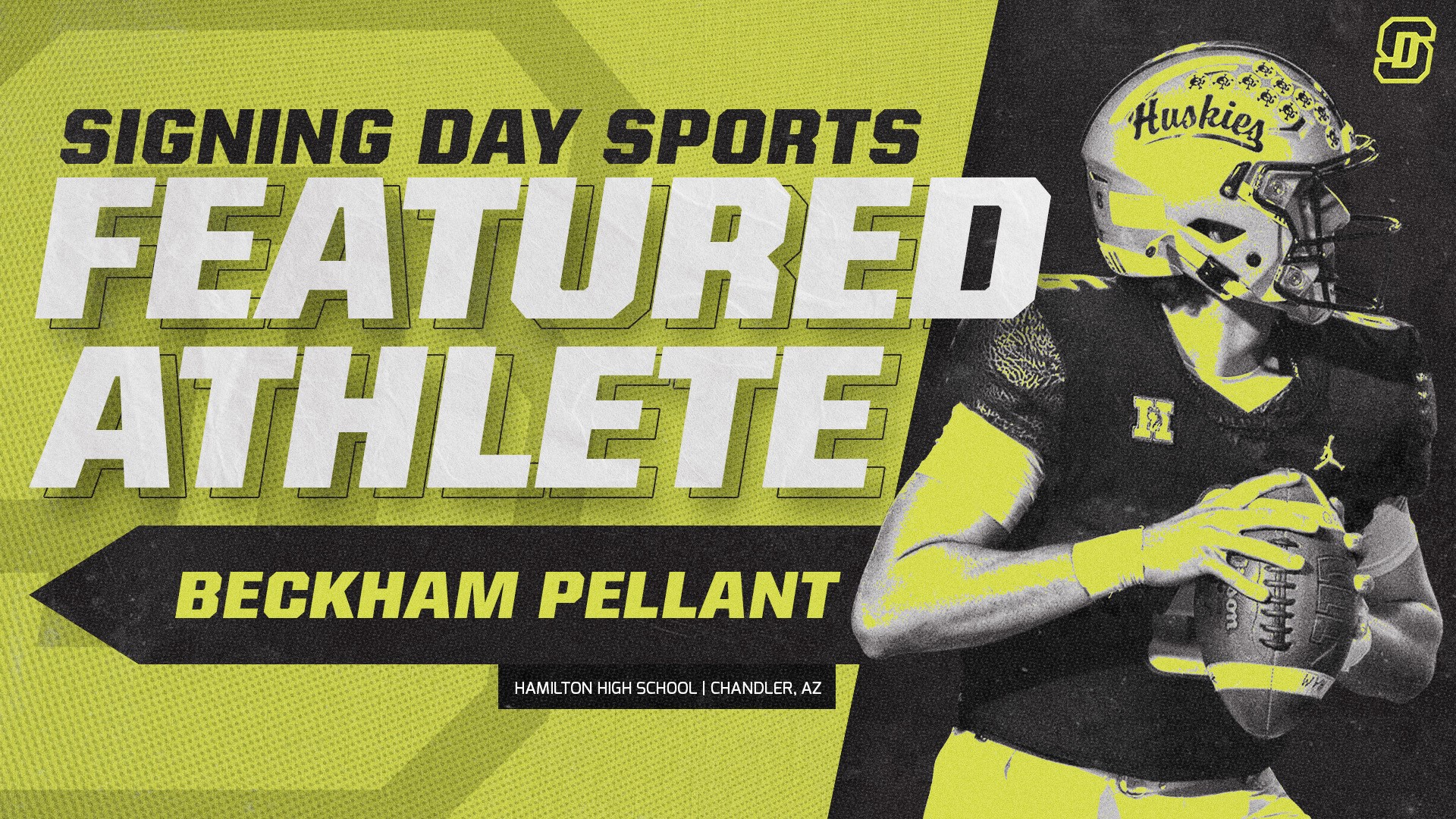 In an exclusive interview with The Wire, Beckham shared his inspiring journey, his unwavering determination on the gridiron, and the pivotal role the Signing Day Sports app played in his recruiting success. From the moment Beckham stepped onto the field, it was clear that he possessed a unique blend of talent, drive, and natural leadership.
"I played flag football starting in third grade, but it was my freshman year when I played my first tackle game. That experience under the Friday night lights ignited a fire within me that still burns to this day," Beckham passionately recalled.
Beckham's remarkable journey recently reached new heights when he received his first Division 1 offer from Illinois State last month. The validation of his hard work and dedication brought immeasurable joy and a renewed sense of purpose. 
After a great camp and conversation with @Coach_Spack and @TonyPetersen17 I am blessed to have earned an offer from @RedbirdFB !@michaelzdebski @JeremyKitamura pic.twitter.com/Seq32Przno

— Beckham Pellant (@BeckhamPellant) June 26, 2023
"Receiving my first Division 1 offer was a great feeling," Beckham humbly shared. "It assured me that my hard work and determination has paid off. I'll never forget that conversation with Coach Spack."
But how did he get here? What's led him to this level of success?
In September of 2022, Pellant was a backup quarterback in his junior year of high school. His recruiting prospects were relatively bleak as he awaited his opportunity to get experience at the varsity level. But things all changed when Hamilton's starting quarterback, Roch Cholowsky, went down with an injury. 
Filling in for Cholowsky, Pellant led his team to a 10-8 win on the heels of 115 yards and a 60% completion rate. The following week, in his first start, he finished with a 68% completion rate and over 250 yards. He also boasted a 4:0 touchdown to interception ratio. And from there, he hasn't let his foot off the gas pedal. 
Although Cholowsky was eventually medically cleared to return, the Huskies opted to keep Pellant under center.
"Confidence is super high," Pellant said at the time. "Getting that game experience is great. I've got the support of everyone here — players, coaches, staff. So I'm looking forward to (what comes next)."
The Huskies went 5-2 with Pellant as their quarterback. 
Their two losses? A 3 point nail-biter against the eventual AIA Open Division Champions, Basha High School. And a playoff loss to the AIA Open Division Runner-Ups, Saguaro High School. 
Suffice to say, Pellant kept Hamilton's expectations high during his first season as its quarterback. But with his unprecedented success, he carries a lot of weight on his shoulders heading into next season.
"Handling the pressure of playing at such a high-caliber school isn't easy, but I know that I have to come ready to work each and every day," said Pellant. "Luckily, the entire organization has my back which keeps my confidence high." 
With such a short sample size, it's almost shocking how well the team has performed with him sliding under center. The transition was seamless. And while Pellant remains focused on the task at hand, he already has a handful of moments that he'll always look back on fondly. 
Take for example the Battle of Arizona Ave., an annual rivalry game between Chandler and Hamilton. Down by a point, Pellant drove the Huskies down the field on a game winning drive that was sealed by a field goal in the final seconds. Or his first Division 1 scholarship offer from Illinois State. 
"Receiving my first D1 offer was a great feeling that assured me my hard work and determination had paid off. I'll never forget the conversation with Coach Spack in his office after Illinois State's camp," recalled Pellant.
Signing Day Sports has played a crucial role in Beckham's recruiting journey, particularly in his connection with Illinois State. After attending a Signing Day Sports camp, Beckham was put in touch with Coach Petersen at Illinois State by Cody Sokol, an employee of SDS and a former Division 1 quarterback himself. 
"After keeping in touch with Coach Petersen, I got up to Illinois State's camp, earned an offer, and was able to commit," Beckham revealed. The app facilitated his communication with coaches and helped showcase his abilities, leading to this significant opportunity.
COMMITTED! #GoRedbirds pic.twitter.com/qJNiAn0z5a

— Beckham Pellant (@BeckhamPellant) July 8, 2023
Looking ahead, Pellant's goals include bringing the championship trophy to Hamilton and achieving national success once he arrives at Illinois State. He is determined to leave a lasting impact both on and off the field – mentioning that he intends to eventually own and operate his own business. 
To wrap up his interview, he was asked if he had any parting advice for younger recruits who want to follow in his footsteps. His answer: time management. 
"24 hours is a lot of time to accomplish goals. I recommend marking out a calendar that specifically states dates, times, and goals throughout the week, month, or even year," said Pellant. "It may be challenging, but you reap what you sow and the benefits on the other end are endless."
It's clear that Pellant's passion, talent, and unwavering determination have set him on a path to greatness. From his humble beginnings in flag football to earning a starting role as a high school quarterback, Pellant's story is one of perseverance and triumph.
With his recent commitment to Illinois State, Pellant has already proven that dreams can become a reality with hard work and dedication. He embodies the qualities that coaches and recruiters look for in an athlete, from his skillset on the field to his leadership and character off the field. And it was an easy choice to highlight him as Signing Day Sports' featured athlete. 
As Beckham Pellant's journey unfolds, the football world eagerly awaits his next chapter, confident that he will leave an indelible mark on the game and inspire generations of young athletes to reach for their dreams.