Introducing The New And Improved Signing Day Sports App
---
Signing Day Sports is thrilled to unveil the fresh new look and enhanced features of our app designed specifically for high school athletes ready to take their sports recruitment to the next level. Say goodbye to the confusion and frustration of the recruitment process, and say hello to a streamlined, user-friendly experience that puts you in control of your future.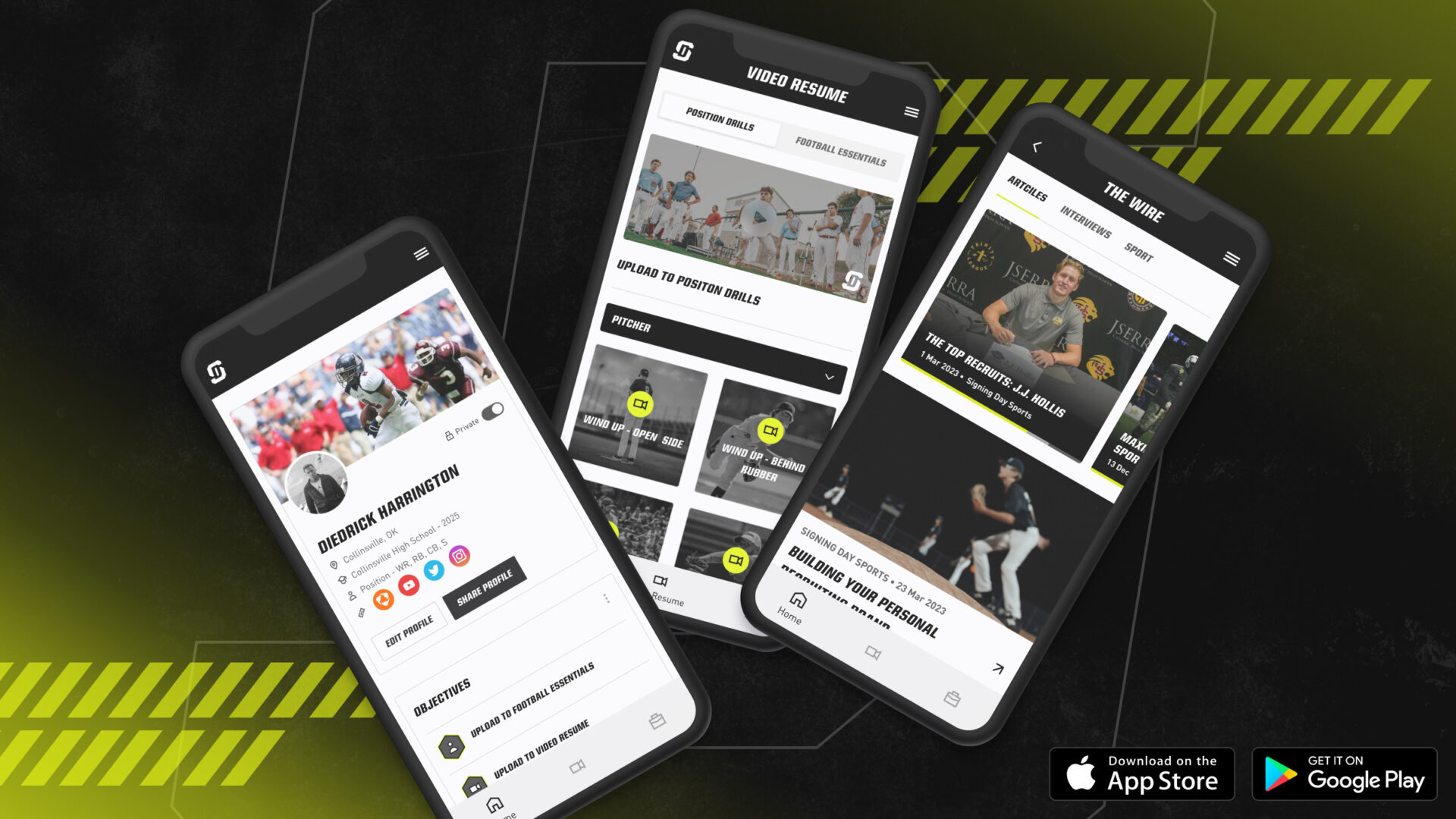 Empowering Your Recruitment Journey
At Signing Day Sports, our mission has always been to provide aspiring athletes like you with a powerful platform to showcase your skills, achievements, and potential to college coaches. With our new app, we've taken that mission to a whole new level.
Revamped User Interface and Experience
Experience a whole new level of simplicity and clarity with our revamped user interface. The intuitive design and enhanced organization of the app ensure that you can effortlessly navigate through different sections, upload your videos, share your highlights, and present your comprehensive athletic profile. We've prioritized your ease of use, ensuring that every step of the process is straightforward and hassle-free.
Consolidate Your Recruiting Information
With Signing Day Sports, you can now consolidate all your essential recruiting information in one convenient place. Showcase your talents through videos of your sports performances, highlight specific skills relevant to your position, and provide coaches with a holistic view of your abilities. Additionally, include verifiable measurements, academic achievements, and any other relevant details that will help you stand out from the competition.
Unlock Insider Knowledge and Expert Guidance
By subscribing to Signing Day Sports, you gain access to an exclusive knowledge base that will provide you with valuable insights and guidance throughout your recruitment journey. Our team of experts, including recent college football coaches and directors of player personnel, are dedicated to helping you navigate the intricate process of college sports recruitment. Tap into their expertise, gain insider tips, and maximize your chances of securing that dream offer.
Enhanced Educational Resources
Understanding the recruiting landscape can be overwhelming, especially for high school athletes seeking college sports opportunities. That's why we've introduced an educational component within the app called Signing Day Sports University. Access a wealth of resources, podcasts, videos and guides that will demystify the recruiting process, help you make informed decisions, and equip you with the knowledge you need to navigate the path to success.
Seamless Sharing and Connectivity
We understand the importance of making your profile easily accessible to coaches and recruiters. With Signing Day Sports, you can generate a shareable link or QR code that allows you to showcase your athletic profile with a simple click. Share it on social media, include it in your emails, or present it in person during recruitment events. Seamlessly connect with coaches and increase your visibility with our convenient sharing features.
Your Future Awaits
Don't miss out on the opportunity to revolutionize your sports recruitment journey. With the new and improved Signing Day Sports app, you have the power to consolidate all your recruiting information, gain valuable insights, and make meaningful connections with coaches.
"The Signing Day Sports' community just reached another level," said Craig Smith, Chief of Sport Development. "The updated version of our app enables athletes to receive educational resources and podcast videos right inside the app. We've also increased functionality of existing features. Make sure to login and check them out."
As Smith puts it:
Share your profile

Build relationships

Get recruited
Our app makes it as simple as that.
Get ready to make a statement on and off the field with the all-new Signing Day Sports app. Embrace the future of recruitment and let your talent shine!