An Athlete's Guide: College Soccer Recruiting Process
---
"An Athlete's Guide" returns this week to cover the college recruiting process for soccer. Soccer is the latest sport to be launched on Signing Day Sports' platform. Soccer can be a tough community to understand, especially considering most of the sought after leagues are overseas. 
There's no right or wrong answers necessarily. Each and every potential path will open some doors and close others. For these reasons, it's important for you as an up-and-coming soccer player to educate yourself. Make decisions that are best for your own interests.
College Soccer Recruitment Background
As with any other NCAA-sanctioned sport, college soccer programs must abide by a set of rules and regulations regarding recruitment. 
First, and foremost, coaches are not allowed to officially contact athletes until their junior year. Schools also have a limited number of scholarships available to them and the amount varies in each division. This makes finding the right fit even more paramount because not every player is guaranteed to be offered money. 
One major difference with college soccer vs. sports like football or baseball is that there are a large number of international students that make up rosters. With this, coupled with the relatively confusing landscape of youth soccer, high school soccer, and club teams, recruiting can feel overwhelming. 
Other recruiting websites will too often focus on the logistics, and the rules/regulations, which mostly just makes athletes feel like another number in the system. Real world advice from coaches and players hits closer to home, and gives younger soccer players an idea as to what their recruiting journey may look and feel like. 
Soccer Director, Trey Thompson's Thoughts
"College coaches are looking for well-rounded student-athletes that demonstrate excellence on and off the field," says Signing Day Sports' soccer director, Trey Thompson. "Student-athletes have a very busy schedule, so coaches are looking for responsible players that understand the commitment and will hold themselves accountable."
Work ethic has been mentioned before on The Wire. If a student-athlete wants college soccer programs to be interested in them, your actions need to show that you will be able to seamlessly handle the daily rigors of collegiate athletics. 
Thompson understands this as well as anyone. A long-time soccer coach for many who have moved on to play at varying higher levels, Thompson tells The Wire that his first considerations when it comes to scouting are hard work and dedication. 
His experience as a coach put him in a position to impart wisdom, but he once was a player going through the same journey as our readers.
"Soccer was a huge part of my childhood," said Trey, whose military family would get stationed in new places every two years when he was growing up. "With no social media at the time, it was hard to keep friends until my dad retired. Then, soccer made it easy for me to transition to the United States and meet friends."
Now, Trey believes that soccer offers a combination of unique experiences and opportunities that any youth athlete should consider taking advantage of. Regarding the growing recruitment efforts in America, he said, "Soccer in America is one of the fastest growing sports. The opportunities and resources available to players today is better than ever."
Thompson's Recruiting Advice
Asked what it would take for a soccer player to be successful in college, Thompson was concise: "An unwavering desire and willingness to improve and put the work in"
Thompson is of the mind that if you believe in yourself, others will follow suit. Your work ethic needs to be the first thing a college coach notices when evaluating your college-readiness. 
Thompson notes a few things that serve to differentiate a high school soccer player from their competition:
"Grit, determination, and being a responsible athlete are a few of the things that come to mind," he said. "Be organized, prepared, confident, and quick to respond. Always film your games so coaches have a good idea of your skill level and playing time."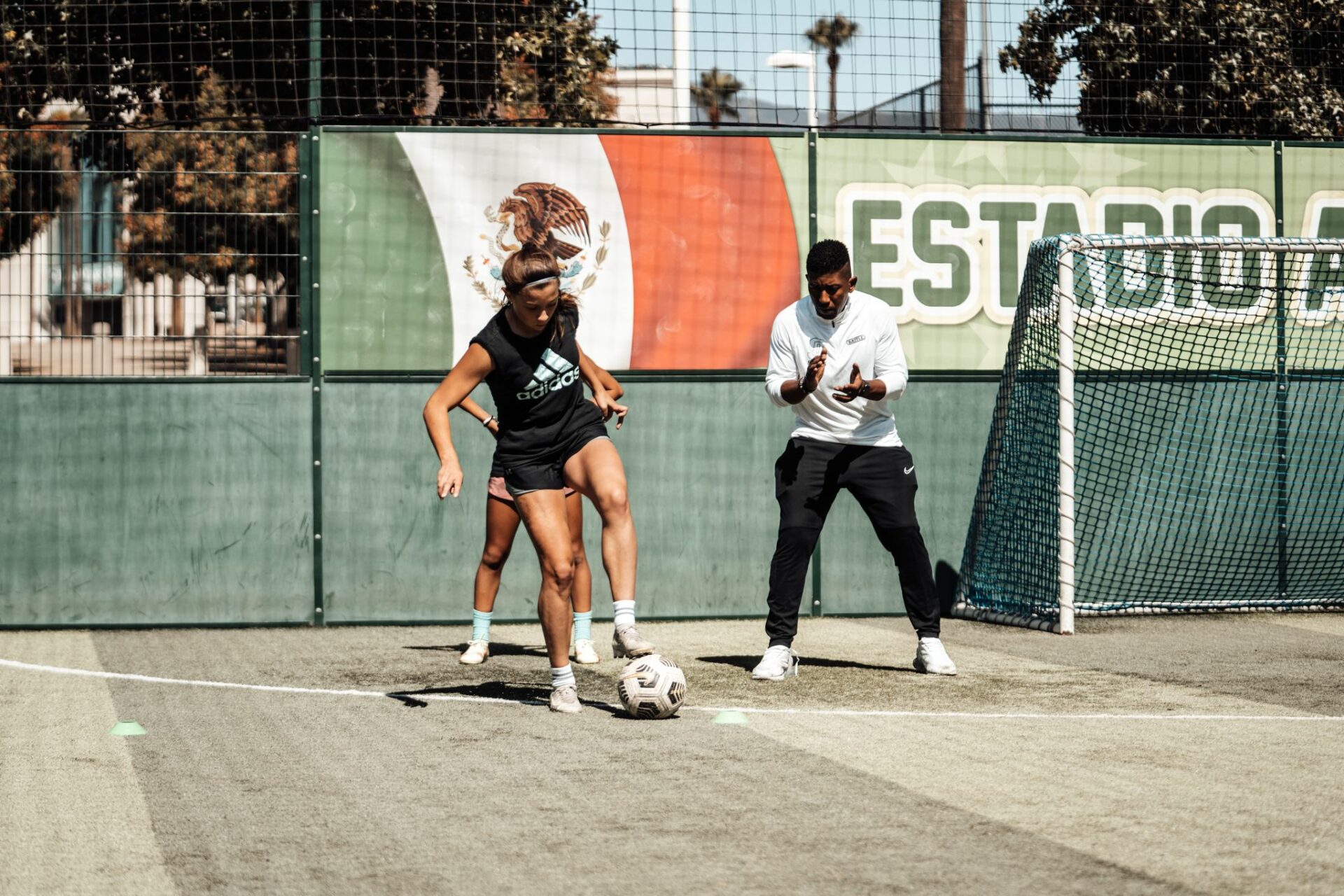 This all goes back to the original point of what a college soccer coach is looking for in an athlete for their program. Thompson explains that being a well-rounded student-athlete is paramount in their decision-making process. 
"They understand that student-athletes have a busy schedule," starts Thompson. "So coaches are looking for responsible players that understand the commitment and will hold themselves accountable."
Actionable Pieces of Advice
Hard work and attention to detail are essential in getting an opportunity to be signed to a college soccer program. There are still, however, ways to push the recruitment process forward. 
Here's an excerpt from our soccer director, Thompson, on how student-athletes can raise their visibility:
"Players that excel more in the classroom than on the field have to be proactive in their college search. Going to College ID camps at specific schools is vital if you are trying to commit to schools at the D-II, D-III, or NAIA levels. Attend as many College Showcase events as possible, and reach out to the schools you do attend. Invite coaches to your game or go to see their campuses."
If it wasn't clear, the student-athlete needs to be just as active in the recruiting process as the college programs do. In most cases, schools will not be going out of their way. But, if the determination is there, there are no ends to which a high school soccer player can market themselves. 
College Soccer Recruiting Wrapped Up
The main takeaway should be that any young athlete can increase their likelihood of being recruited. Although overwhelming at times, there are ways to separate yourself from the pack. 
If a college program doesn't have the means to see you, you need to put yourself in front of them. Trey, our resident expert, echoed this in our interview. We believe that everybody should be given ample opportunity to be seen by colleges. 
Use this article, do additional research, and find a way to get eyes on you. Our Signing Day Sports app is a great place to start. If you meet the criteria laid out by Trey, there's a great chance that you will be recruited. 
We look forward to hearing everybody's' stories of recruitment, and wish everybody the best in their journey to singing day.