Advice From A Recruiting Coordinator
---
Readers come to The Wire to learn more about the recruiting process and hear stories from people who have been through it before. We try to tailor our content so that it is as inclusive as possible. However, by telling specific peoples' stories, it can paint a picture that this is the only way to achieve the dream of playing collegiate sports. 
As we know, there are a multitude of variables that factor into getting to the next level, and a handful of different paths to get there. 
Hopefully, with insight from somebody who has worked with players from all different walks of life, this article can encourage Signing Day Sports users to stay the course. While your story may not feel like other prospective student-athletes', or any you've ever heard before, it doesn't mean there isn't a place for you in college football.
With that in mind, we are excited to share a conversation between The Wire and a former D-I college football recruiting coordinator. 
Interview With CFB Recruiting Coordinator
Our guest, who wishes to remain anonymous, has worked in college football player personnel / scouting and on-campus recruiting for six years. 
He has worked directly with some of the most recognizable names in the sport and has had a hand in recruiting prospective student-athletes all across the board – from no stars to 5-stars. 
However, what's noted right off the bat, is that star ratings don't matter until you get on the field. Then, it's up to each individual to prove their worth to a team. Our guest's thoughts regarding this led him to being a willing recruiter of student-athletes all over the country. 
"You can tell quickly how important somebody is to their team," he said. "Those guys are fun to watch, and those are the guys that will bring that mindset with them to their college team."
How can this be judged? Being important to a team seems a bit arbitrary, perhaps. In terms of a recruiter coordinator, and what they are trained to look for, there are a number of things that pop out. 
"Put simply, if a team didn't have a particular player, then they would lose every game," he said, regarding student-athletes' relative impact. 
While this may be an over-simplification, the premise is what sticks out. Impactful players, regardless of their perceived ranking by 247Sports, make plays to win games and act in a way conducive to winning.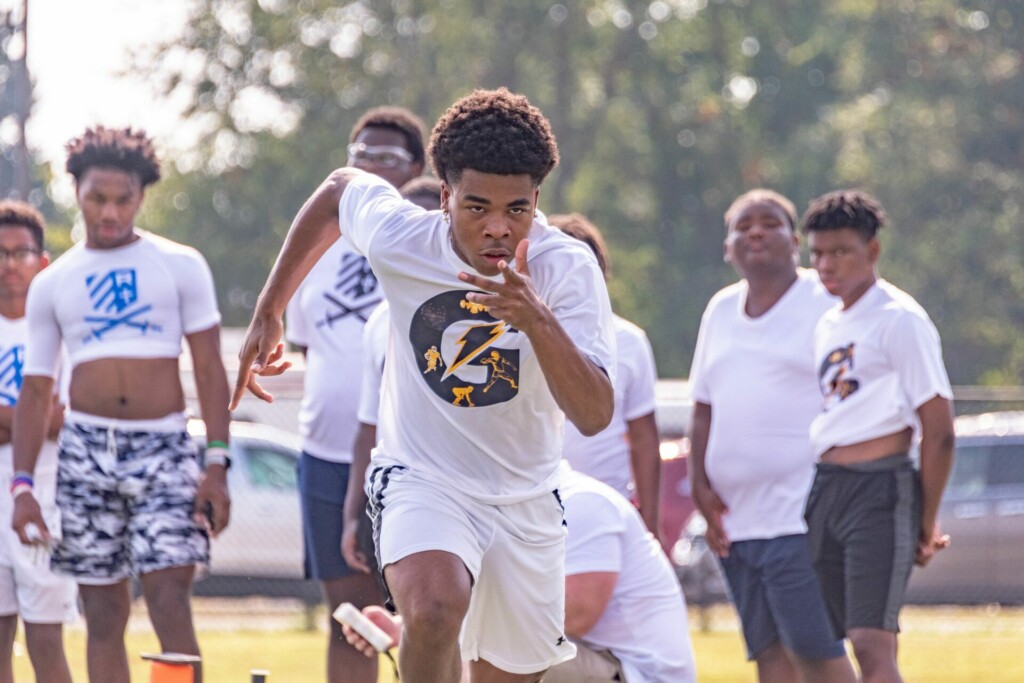 "You might not be the fastest or the strongest, but you can have the leadership or work ethic that higher-ranked prospects might not have."
To me, as an interviewer relaying information, these responses all point to one thing: there's no prototypical archetype of a football player that will guarantee you a roster spot with a college football team. Intangibles matter and they are consistently being viewed as equally, if not more important than statistics or measurables. 
Of course, in recruiting, not everything is positive. Even the highest rated recruits have something about them that doesn't perfectly align with a given program, coach or scheme. For our guest, there are a few things that would immediately stick out to him as an evaluator. 
"Old film is a problem that deters me," he said. "If your only film available is from last season's highlights, I would almost always not even waste my time by watching them."
"Always, always be honest with coaches and your recruiting coordinator. You don't want to waste each other's time. And schools do 100% background checks on you. So, whether it's about injuries, grades, height, interest in the school – anything like that – the truth will come out."
It can be overwhelming; our guest acknowledges as much. It seems as though there's so much that can derail recruitment, yet so little that can boost it. Keep in mind, recruiters are looking for reasons to recruit you. As noted in our interview, the purpose of their work is to find the prospective student-athletes that deserve further attention. It's not typical to go looking for things to derail recruiting efforts. But if something is out there, it will be found. 
"(Recruiting) is always looking for the good things in a player compared to the bad," said the recruiting coordinator. "I want to be excited about a player and see all the good things he can do."
From an outsider's perspective, it's common to wonder what exactly their process looks like. If you could only learn what they do from the back end, you could almost circumvent the system as a recruit. Turns out, the answers are simple – at least from our guest's perspective. 
"Just make it as clear as possible for a coach to get a hold of you," he said. 
While coaches and recruiters each have their own strategies for recruiting and specific things that they look for on film, the best thing you can do is just not to mess up. Don't make things too difficult. 
"Make sure you have the proper name everywhere, contact information, correct high school, city, state, and head coaches' number. Your film and basic recruiting information should be as easy as possible to obtain." 
Our guest recruiting coordinator mentioned a handful of times in which he was at least minorly intrigued by a prospective student-athlete, but then his process got derailed by avoidable difficulties in obtaining information. After that, it was easy to move on. Like he said, "there's plenty of fish in the sea."
Previously, on The Wire, we have talked about things that happen on recruiting visits and communicating with coaches. Here's our guest on what he does for recruiting visits and how they aid in the recruiting process. 
"First and foremost, we always do facility tours and show them around the rest of the campus," he said. "This is also a time when recruits have lots of questions for us and we spend some time answering them." 
Remember, as he said, it's important to show a genuine interest, and as we've mentioned before, do some research on the school prior to visiting. 
"Then, recruits will attend coaches' meetings to get a chance to meet the staff and get to know their personalities."
Something that our expert likes to do is watch film with recruits in order to test their knowledge of the game. This is a good way to learn more about what a recruit is like in their own element. Surely, they should have some good knowledge when it comes to their own position. 
It's at this point, more often than not, when personality starts to shine through. This, in turn, will help our guest make informed decisions based on a recruit's fit within the program, or lack thereof. 
Our guest went on to describe what the rest of the day or weekend might entail. He said that they would do photo shoots, campus tours, go out to lunch, watch practice or team lifts, and meet with academic officials.
It is not only the 5, 4, or even 3-stars that are getting invited. With that in mind, make sure to leave a good impression if you are lucky enough to be invited. 
"(Recruiting coordinators) would invite everybody from elite to non-offerable kids, and everything in between," he said. "And it's not solely head coaches or directors of player personnel with the authority to do so. Many from within a department have this capability." 
Don't be scared to reach out. Just make sure you've done research and have covered all of your recruiting bases beforehand. You never know what could happen.
Hopefully, our readers were able to take some information away from today's entry. It's always beneficial to hear insight and advice directly from somebody in the industry, especially a recruiting coordinator.