A Guide For NCAA Academic Eligibility
---
As a high school student-athlete with aspirations to play sports in college, understanding the NCAA's academic eligibility requirements is essential. The Wire tasks itself with keeping our readers informed and educated when it comes to these necessary requirements and expectations. 
Academic performance plays a significant role in recruitment, and meeting NCAA standards ensures you are eligible to compete and receive athletic financial aid. This article provides a comprehensive guide for student-athletes, covering the latest NCAA eligibility updates, the NCAA sliding scale, and how academics play a role in various sports and NCAA divisions.
NCAA Academic Eligibility Updates
In April 2021, the NCAA made significant updates to its eligibility policies for Division 1 and Division 2 student-athletes. The initial-eligibility requirements no longer mandate the ACT or SAT for student-athletes who enroll full-time in a college and intend to play NCAA D1 or D2 athletics. This change is aimed to provide more flexibility for student-athletes after the Covid-19 pandemic.
However, it's crucial to note that this exemption is specific to eligibility purposes only. Many colleges still require students to take the ACT or SAT for admissions or scholarship purposes. Additionally, college coaches may still request test scores to evaluate whether athletes meet their program's academic standards. For student-athletes planning to enroll in the class of 2023-24 or beyond, it is advisable to plan on taking the test to meet NCAA eligibility requirements.
Understanding the NCAA Sliding Scale
To determine the GPA or SAT/ACT test scores needed for NCAA eligibility, student-athletes must reference the NCAA sliding scale. This system is designed to account for varying academic strengths, ensuring that a higher GPA may compensate for lower SAT/ACT scores and vice versa. Thus, excelling in one area can offset potential deficiencies in the other.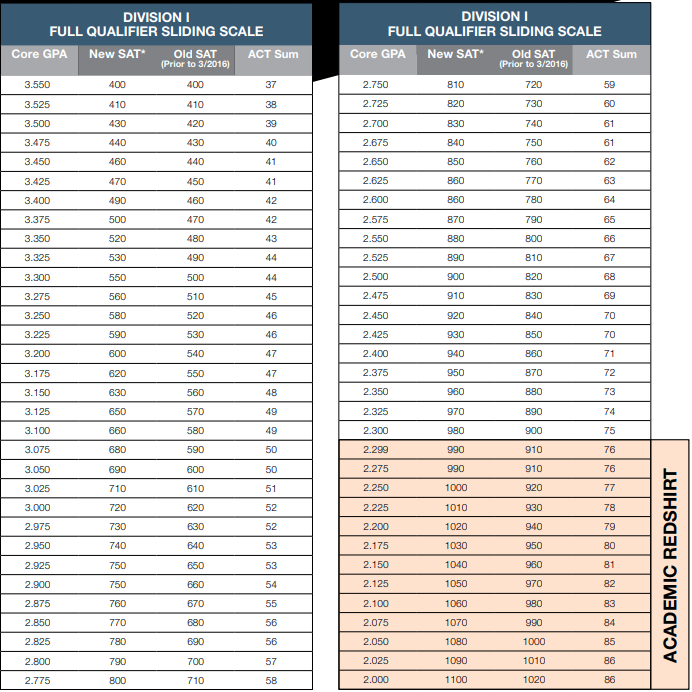 Academic Impact on Recruitment
Academics are a vital consideration for college coaches and administrators during the recruitment process. Coaches seek student-athletes who excel both on the field and in the classroom, as academic performance reflects dedication, discipline, and time management skills. Strong academic performance not only enhances eligibility but also positions athletes for potential scholarships and roster spots.
Academic Variances Across Sports and NCAA Divisions
While academics play a critical role in recruitment across all sports and NCAA divisions, the level of emphasis may differ. In Division I and II, where standardized testing requirements have been eased, coaches may place greater emphasis on athletes' high school GPA and academic achievements. In Division III, institutions set their own eligibility standards, allowing for more flexibility in the admissions process.
Balancing Academics and Athletics
Student-athletes must strive for academic success while pursuing their athletic dreams. The NCAA's commitment to academic eligibility underscores the importance of maintaining a strong GPA throughout high school. Coaches and colleges seek athletes who excel both on the field and in the classroom, as academic excellence reflects a well-rounded and disciplined individual.
Resources for Student-Athletes
The NCAA provides resources to help student-athletes navigate the complexities of academic eligibility and the recruitment process. Student-athletes can access information on the NCAA's official website, including eligibility requirements, academic benchmarks, and the sliding scale. Additionally, seek guidance from high school counselors, coaches, and NCAA compliance officers to ensure you meet eligibility requirements and maximize your college sports opportunities.
Takeaways
Becoming NCAA compliant involves understanding the evolving academic eligibility requirements and the importance of academics in the recruitment process. Recent updates by the NCAA reflect their commitment to supporting student-athletes during the COVID-19 pandemic. 
As the Signing Day Sports community continues to strive for athletic and academic goals, remember that excelling academically is a crucial stepping stone to a successful college sports career. Stay informed, focused, and dedicated to your education and athletic journey. With the right preparation and commitment, you can realize your dreams of competing at the college level while thriving academically.